Burley Clay Products

5

Results
$8.99
Constructed with quality materials
Contains a terra cotta finish
Dimension: 12.2" D x 5.1" H
Contains a terra cotta finish
$0.69
Made in USA from clear vinyl durable plastic
Top diameter of saucer is 8" and bottom diameter is 7"
Lightweight and durable for multiple uses with any indoor or outdoor planter
Provides critical airflow needed for healthy root system to keep your plants healthy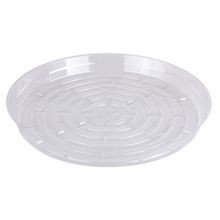 $1.99
Made in USA from clear vinyl durable plastic
Top diameter of saucer is 8" and bottom diameter is 7"
Lightweight and durable for multiple uses with any indoor or outdoor planter
Provides critical airflow needed for healthy root system to keep your plants healthy
$0.39
Protection for your carpets and floors
Place under pots to catch leaking water
Dimension: 6"x6"x1.5"
Great gift idea
Manufactured to the highest quality available
$2.29
Constructed with quality materials
Contains a terra cotta finish
Dimension 12.2" x 5.1"
Deroma Low Bowl Planter is constructed with quality materials providing durable, long lasting use. Specially designed to add a stylish touch to any indoor or outdoor area. Product contains a terra cotta finish and measures 12.2"D x 5.1"H.